Why TRES
TRES THE SOFA TAILOR's sofa making process has been filmed by process.
Please take a look.
JAPAN QUALITY: Aiming to be a world-class sofa manufacturer
TRES always aims to be "Japan's No.1 sofa" on par with the world's top luxury brands. We have been supplying sofas on an OEM basis to lifestyle stores mainly in the Tokyo metropolitan area, and have delivered approximately 40,000 sofas to customers nationwide. We have been delivering approximately 40,000 sofas to customers nationwide. Furthermore, all TRES sofas are designed and designed by a professional designer who is well versed in sofa manufacturing based on the skills and abundant experience he acquired in Italy. We are proud of the highest level of quality in Japan, combining design, comfort, and durability, using the finest materials even for internal parts that cannot be seen from the outside.
COMFORTABLE life-changing, inspiring seating comfort
The comfortable feeling of sitting on a chair is so impressive that your heart will melt away as soon as you sit on it. In order to achieve this, the highest quality materials are used sparingly in the cushioning material, which also determines the tactile feeling. By laminating several types of urethane of different densities, the cushioning material wraps the body firmly and does not give the feeling of bottoming out, so you will not get tired even if you sit all day long. In addition, small feathers from Hungarian mother goose, which are also used in high-end down quilts, provide a soft first touch at the moment of touch. The sofa creates a special moment in your life, a gentle time to spend with your loved ones in a truly relaxing atmosphere.
MASTERPIECE: How a single sofa is born
A solid, unmixed tree. Our sofa manufacturing process begins with finding the right wood with a keen eye. Durability is vital for sofas, which are the only piece of furniture that you can rest your entire body weight on. For this reason, we use "natural solid wood" with excellent strength for the frame, which serves as the foundation, and carefully selected materials for all parts. The entire process is finished with excellent craftsmanship, resulting in the completion of a "single sofa" of the highest quality. In addition, we are thoroughly committed to before and after-sales service, including installation and maintenance, and have a full support system in place to ensure that our sofas will be used for a long time as a sofa for a lifetime.
Making Process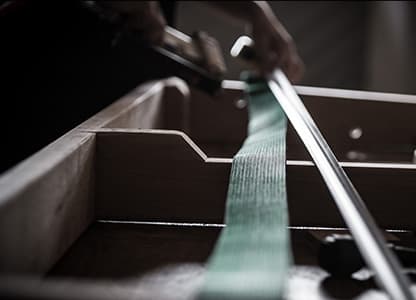 Framing Woodworking & Assembly
Natural solid wood," cut from natural logs grown in mountains and forests and normally used for table tops and other surface materials, is lavishly used as the frame material. The unique distortion of solid wood, to which no human hands have been added, is adjusted while careful processing and assembly are carried out down to the smallest detail to create a strong structure.
Webbing Tape Tape Staking
The tape is upholstered according to size, design and seating comfort.
The spacing and tension levels are calculated to ensure the best possible upholstery for each sofa.
The finest Italian webbing tapes are densely stretched one by one to create
a sturdy foundation to support the heavy, high-density urethane.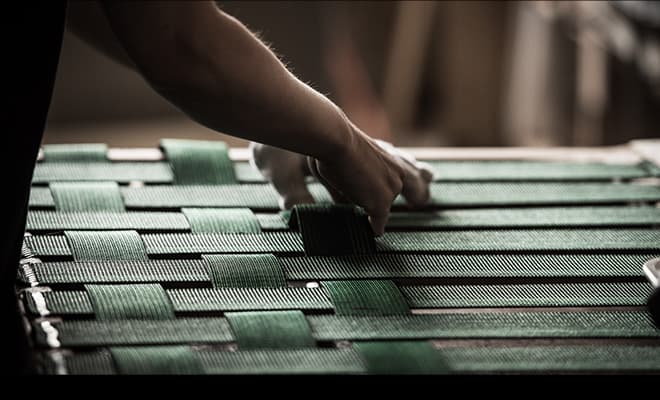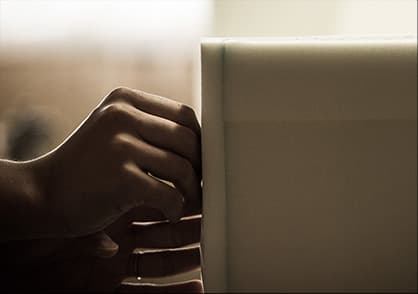 Urethane urethane cutting and bonding
Urethane is cut to size according to each
part, such as the seat, backrest, and armrests.
The soft and hard-to-handle urethane is then glued one by one to the finished base
carefully and speedily by hand.
TRES sofas are made of high-density urethane, which
is highly durable and resistant to deterioration over time.
Fabric cutting and sewing
We cut the fabrics according to the pattern made by our pattern maker.
We cut the high quality fabrics directly imported from Italy.
We use both automatic cutting machines and manual cutting depending on the fabric.
All fabrics cut into parts are treated to prevent the fabric edges from fraying, and
then sewn together by hand by experienced craftsmen.
Stitching and piping are then applied, and
special reinforcement sewing is applied to zipper openings and other areas.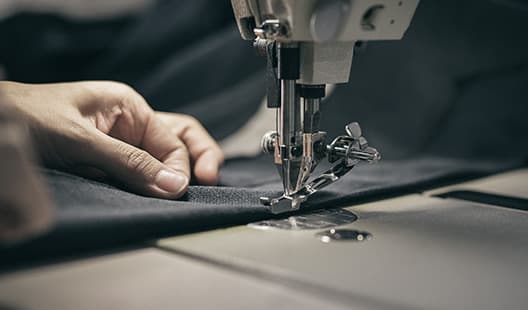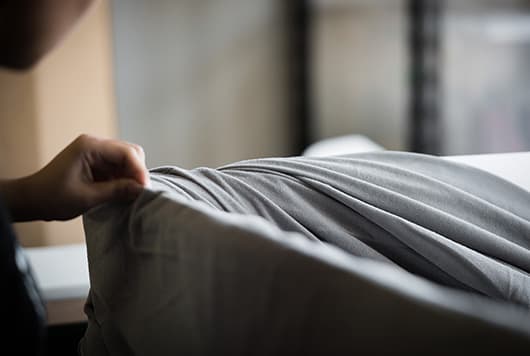 Finishing Finishing
The "covering",
the frame to which the urethane has been glued, is then covered with the finished cover,
and the sofa is finally complete.
After a rigorous quality check,
TRES sofas are then packed and delivered to the customer.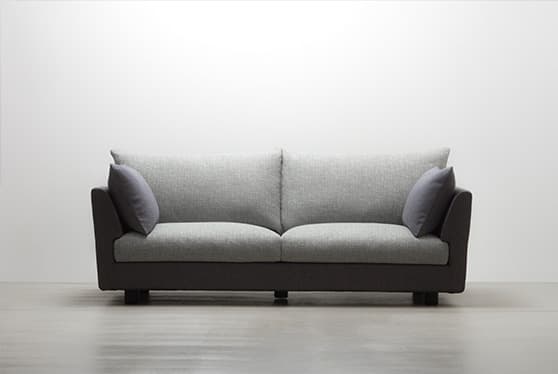 Maintenance / Aftercare
Parts Replacement, Repair and Warranty for Long-Lasting Service
At TRES, we want our products to last a lifetime as sofas.
We do not set a warranty period, but will take care of your sofa until you are satisfied with the quality of our products.
We are absolutely confident in the quality of our products, with no reports of frame breakage in the 60,000 units we have shipped so far.
If you have any problems, please contact us anytime.
Not all maintenance and after-sales service is free of charge.
-If you begin to notice that your sofa is deteriorating over time, please feel free to contact our staff at
.
Urethane replacement inside cushion
Feathering inside cushion re-striking
Replacement of cushion covers
Replacement of the entire sofa cover (*)
Adjustment of seating comfort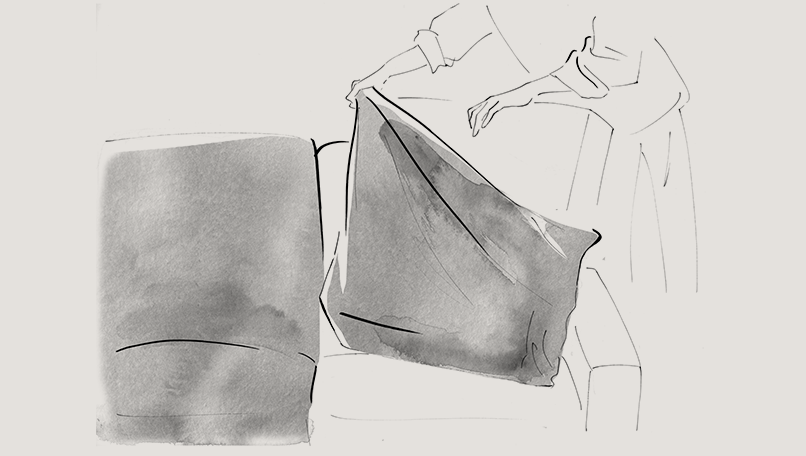 Designer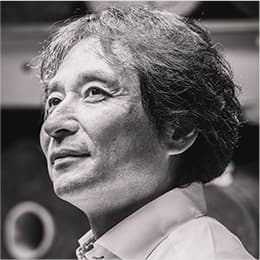 Michihata Takumi
Born in Ishikawa, 1963.
Graduated from Musashino Art University, Department of Basic Design in 1986.
After graduation, worked in the design department of a major furniture manufacturer.
After being involved in architectural design of facilities on U.S. military bases in Japan,
made a U-turn to Ishikawa Prefecture in 1992 and joined a certain furniture manufacturer as the head of the planning and development office.
In the same year, he studied interior design in Italy.
During his tenure, he was involved in the launch of an original brand and
licensing business for a high-end Italian sofa manufacturer.
In 2000, he became independent and founded T's mobile with the president, Mr. Koshimura. mobile with Mr. Koshimura, the company's representative.
Since then, as a designer specializing in sofas, he has been involved in the design of all products under his own brand
.